Kingsway has ended its first of three school terms, and here is the latest news from Dr. Milly.
MAY 2023 NEWSLETTER
KINGSWAY CHRISTIAN HIGH SCHOOL
Dear Friends of Kingsway Christian High School, we greet you in the precious name of our Lord Jesus Christ!
We sincerely thank you for continuing to stand with us in prayer, encouragement and financial support.
This is the time we can look back and see the far God has brought us! Surely this far, the Lord has brought us! The Lord has comforted us with 1 Samuel 7:12
"Thus far the Lord has helped us!"
Over the past Term 1, we have truly seen God's continued care about every aspect of our lives, and of the children at Kingsway. Right now, we look back and marvel at how the Lord has carried us through the term, with 63 children finally coming to study! Certainly, we can say, Ebenezer!
Our Term 1 closed for a break on May 3. Term 2 begins on May 28. We have 3 Terms per school year. Most of our children have gone to their relatives and others to their families for first term break, which is officially three weeks. There are five girls and thee boys who remained with us at school because they have no families to go home to. Two of the girls said they will go to see their relatives in the last week of the break.
My daughter Comfort and my son Reward, who do much of the work of teaching classes and running the school, cannot take a break. At the very beginning of the break, they started traveling to Uganda National Examination Board (UNEB) headquarters to restore our examination center, which was not functional during COVID. This week they are registering our Senior 3 and Senior 4 candidates for their Examinations. This is a very hectic time for them!
Your prayers are very much coveted for Comfort and Reward this time.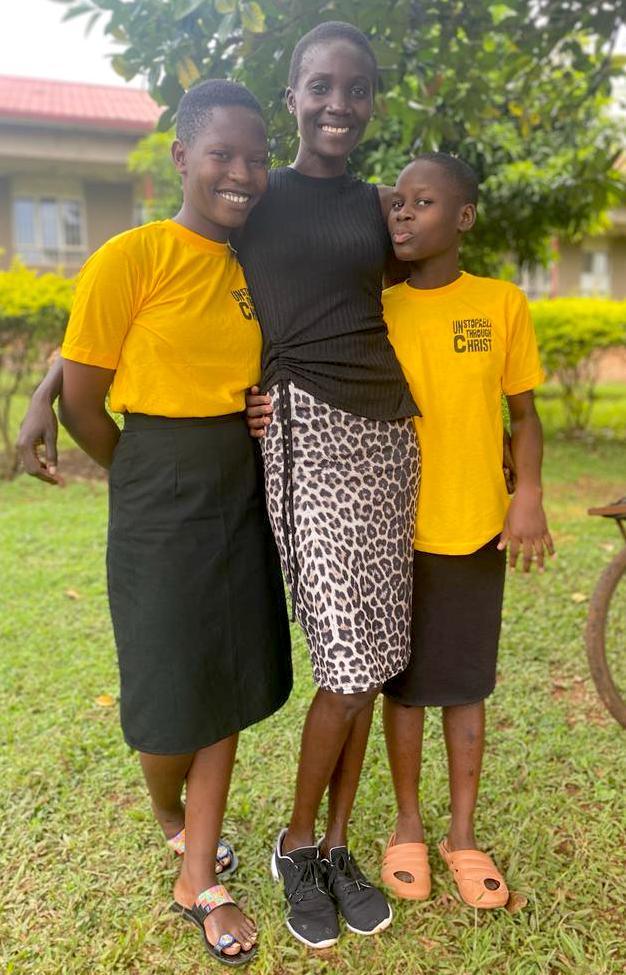 Class Achievements
All our Advanced Level students: both Sciences and Arts students are on normal progress.
Senior 4 students are on serious preparations for end of year Uganda Certificate Examinations.
Senior 3 students started preparations for their DIT exams, which will be done this year.
Second term will be very busy with preparing the candidate classes for the national Examinations. This will go hand in hand with regular class lessons.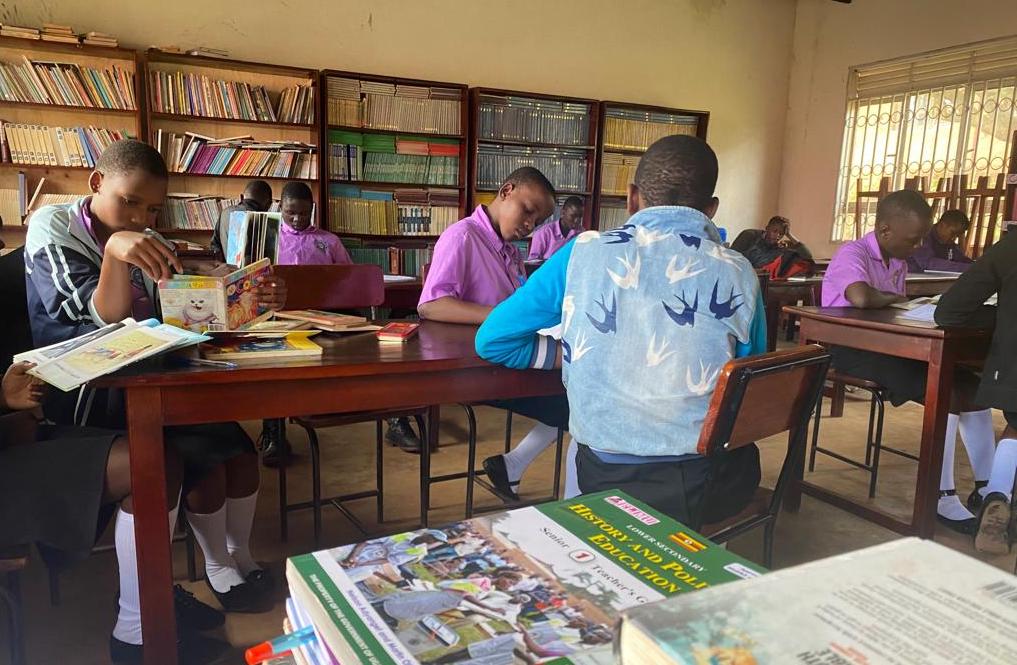 Here the students are studying and reading in the school library. Our tables can only accommodate 20 students, which means it is difficult for many students to do research in the library at the same time. In the next term, we plan to make more tables for the library.
Fun Playing Football (Soccer)
This past term, both girls and boys have had great fun playing football (what Americans call soccer) against teams at other schools. Check out their joy in the video below from their games at St. Andrews school, when the girls tied 0-0 and the boys team won 2-0! They have yet to be beaten by another school, so they are very excited. They will have two games this next term.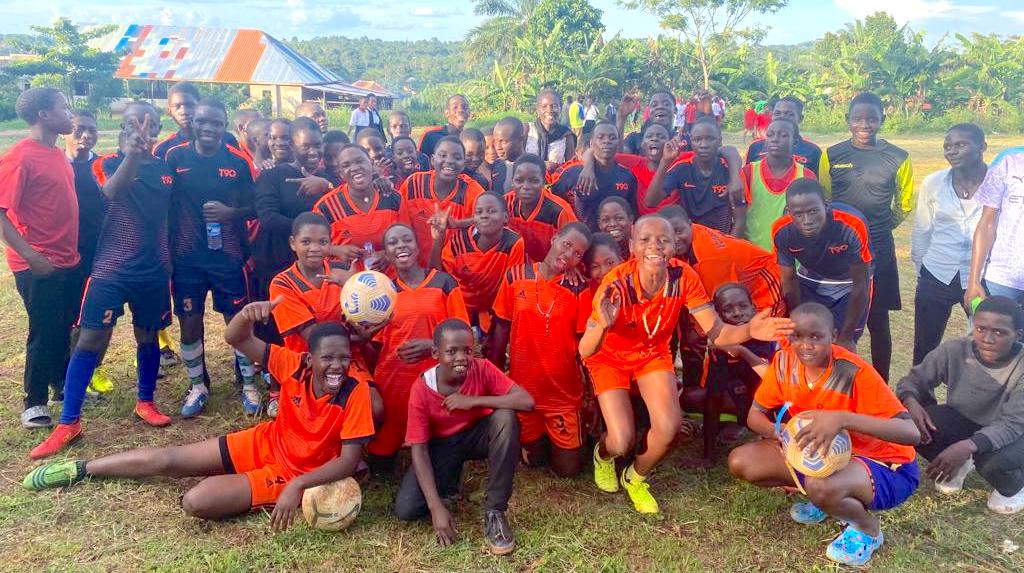 Girls' Dormitory Building
The carpentry work for the last portion of the slab of the dormitory was completed this week. The builders are now doing the metal work. We are left with pouring the slab.
Last term we were blessed with much rain. You might think we would be happy since last year was a very bad drought. But this created problems for building the girl's dormitory. Since Kingsway School is on the slope of Kituuza hill, it was very difficult to take building materials uphill. This delayed the finishing of the planned work on the girls' dormitory.
Members of the Sub-county Education Committee came inspect the girls' dormitory in March. These people threatened us with a tax they have not disclosed. They said they were going to work it out, and they will send to us the tax-bill. Pray with us that God will direct them to tax us fairly.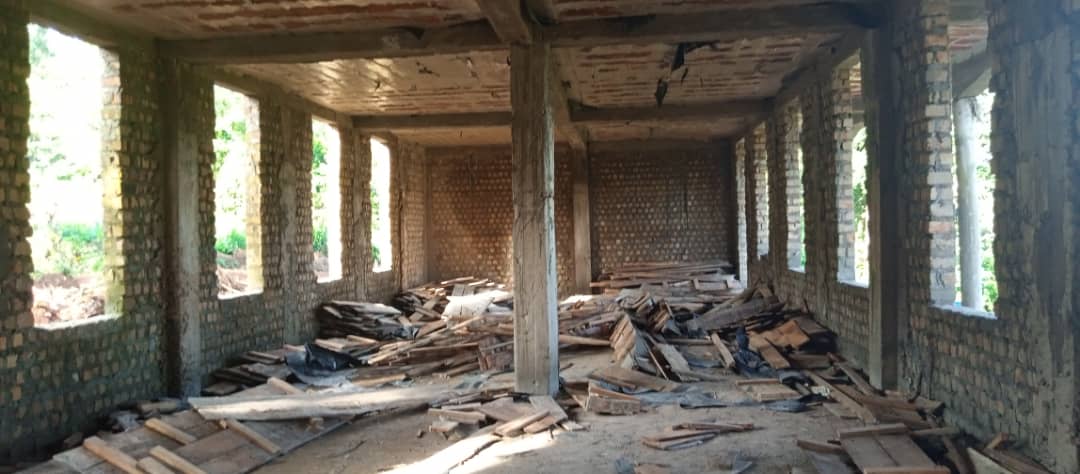 Progress, but slowly because of the rain…
Staff News and Employment
We have advertised three places for employing new teachers.
Teacher for English
Teacher for Biology and Chemistry
Teacher for Geography and Entrepreneurship
We are looking for another cook to employ to replace Godfrey. Pray with us.
NB: we are doing interviews for teacher selection next Saturday, please stand with us in prayer, that God can direct us to select according to His will!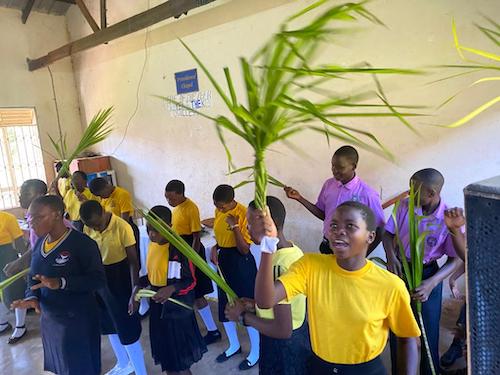 Challenges and Prayer Requests
Health challenges
In term 1, we had a number of health challenges:
Shaban (Senior 4) was cut by a broken glass. It was a serious situation, which kept him at home for one full month.
A number of students suffered from malaria, cough and flu.
Although we managed to handle the sick students at school, it took a lot of money to fully treat the children. This made treatment one of the highest expenditures in the school during term 1.
Transport Challenge
Kingsway has no vehicle to help us with transportation. When we go out to purchase foodstuff and materials for building, we end up hiring vehicles, which are very expensive. And also, the lack of a school vehicle has limited us from transporting students who could live at home and come to school daily.
Most times we end up using bodaboda (motorcycle) transport. This is very risky transport system, which sometimes ends up in fatal accidents. Nevertheless, we continue to be amazed at how God in so many ways is taking us through these challenges one by one. And we rest in the certainty that He will continue to do so.
Frequent Power Blackouts
Because of the frequent rainstorms, many times in during this past term we had power blackouts, which rendered the school in total darkness.
We pray that the Lord will provide us with finances to install solar panels in the school to provide us with alternative source of lighting in times of power blackouts. Also, electricity is expensive so this would save money over the long term too.
Uganda is on the Equator and receives a lot of strong sunshine, so solar panels work well here.  It will cost about $1800 to equip each building and we have six buildings that need solar panels.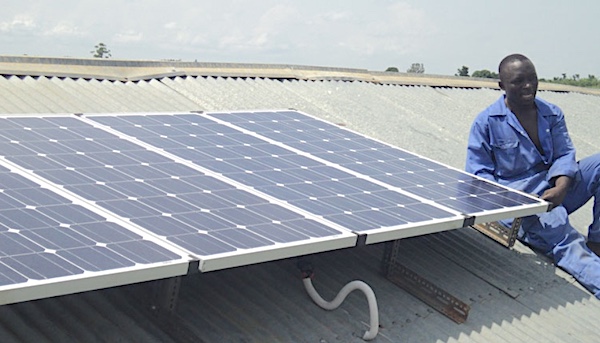 Some Prayer Requests
Please join us in thanking God and praying for the following:
•  We thank God for the people He has brought for his service at Kingsway.
•  Pray that God will give our students good health and good minds when they return to study for the next term.
•  Pray with us that, God will bring the persons of His choice to come for the job interviews, and that He will direct us to select the persons for Kingsway, according to His will!
•  We thank God for this far He has brought us with the construction work. Continue to pray for us that God helps us to speed up the work of the girls' dorm, so that, we can register Kingsway as a boarding school. This will help us to avoid problems with Ministry of Education.
•  Pray with us that, the Lord will provide finances to install solar panels in the school to provide for us during times of power blackouts. Pray also that God would provide for a school vehicle so that transportation of our goods and students can be affordable.
•  Pray for us that the Lord will continue to provide the finances needed to meet all the school requirements.
My Travel to the USA this Year
Please also pray for me for as I am seeking an American visa to travel to the US in October. It is not always easy for us in Uganda to get an American visa. However, this time, it is Felix Theonugraha, the president of WTS, who is trying to get a visa for me to come as a visiting scholar to the seminary. Pray that God will reward his efforts by granting me the visa.
Along with being a Visiting Scholar at Western Seminary, I will be giving a presentation at the Evangelical Theological Society Annual meeting in November.  I submitted a proposal called "Reading Psalm 82 from a Ugandan Contextual Perspective" which was accepted! I praise the Lord for this opportunity. Please pray for my research and preparation for my talk.
As always, we thank God for each and every one of you, and for all of the ways in which you have prayed for us, encouraged, and supported us. Ebenezer!
Hearty Thanks,
Milly.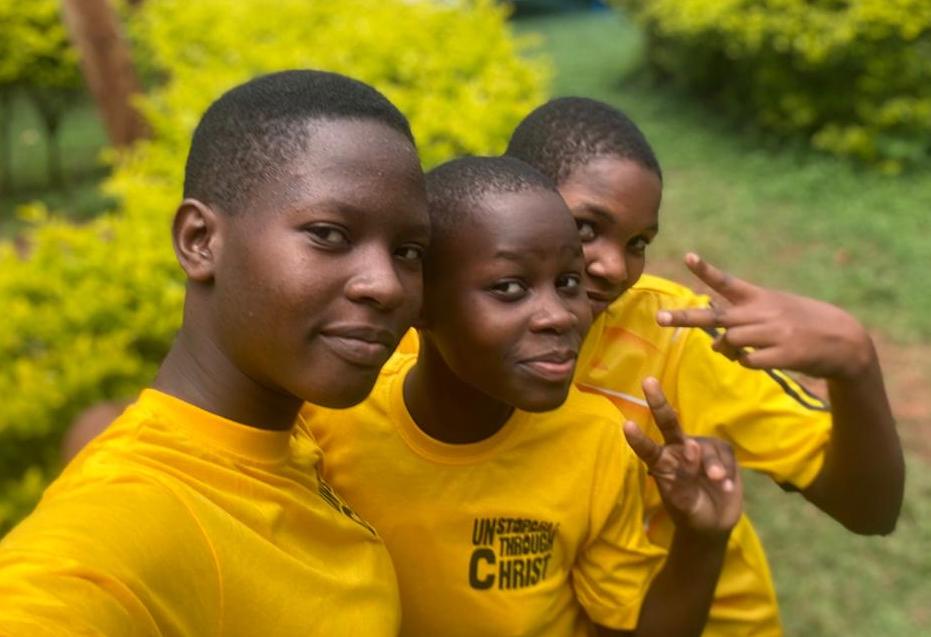 Educating girls for the Future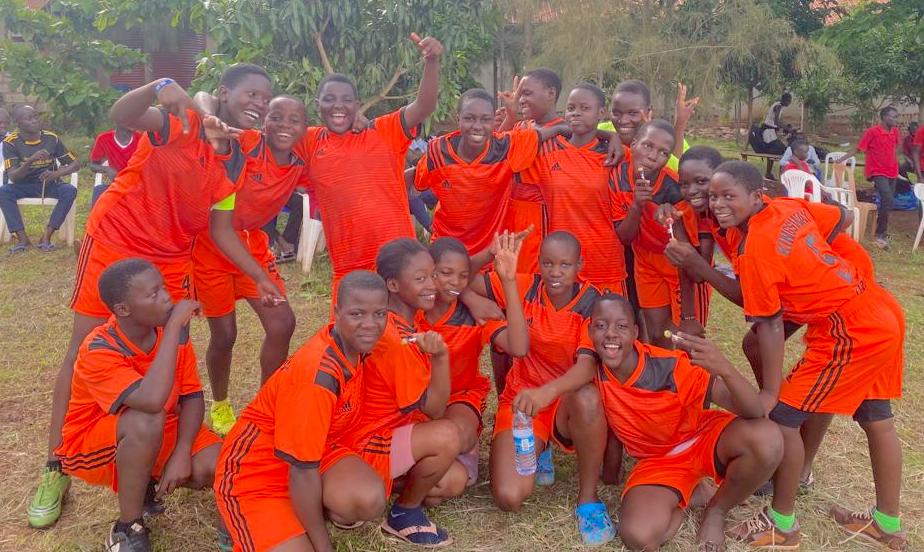 The girl's team celebrates victory!