We asked Milly to make a list of things that Kingsway could really use, from small to big. From chickens to scholarships to buildings to Bibles, there are lots of needs!
Use the "Donate" button at the bottom of this page to choose which funds that you want to give to.
Student scholarships (Most important)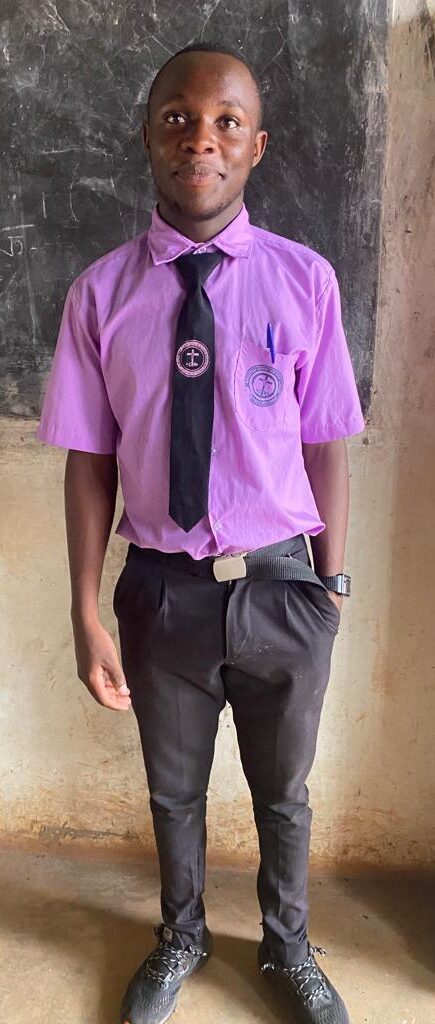 December 2022 – Young people from impoverished homes apply to Kingsway hoping to get an education that would be impossible otherwise. Because of COVID and the economy, Kingsway has had to turn away many worthy children because funds are not available.
It takes about $75/month to provide schooling, room and board for one student at Kingsway. Last year Kingsway was able to serve less than 20 students because of of lack of funds.
Would you be willing to fund a life-changing scholarship for $75/month for one needy student next year? (or $900/year)
2023 UPDATE

When the school year began in February 2023, Milly stepped out in faith and accepted the applications of 30 more students to attend, to bring Kingsway back to full capacity of 50 students. They had NOT gotten scholarships for every last child, but they determined that they must do this to meet the need, and trusted the Lord.
But then Kingsway's offices were overwhelmed with orphan caretakers and families begging to enroll their children too. She finally ended up taking a total of 63 students this year! (They had to build more desks and beds because this is beyond their 50 student capacity.)
Why did this happen? Because last year when Kingsway was in crisis after two years of COVID shutdown, inflation and drought, many other schools closed altogether. Those that survived hiked up their fees because of the increased cost of food and inflation. The few schools that used to admit orphans for free and for students from needy families for half tuition, as Kingsway does, gave up their charitable programs. So many more impoverished children in Uganda will never get an education past seventh grade.
~~~~~~
The Girls Dormitory

June 2023 – Great news. The ceiling/floor slab between the two floors of the dorm has finally been completed. This is by far the most expensive and difficult step and it cost more than they expected. Rainstorms and power outages greatly slowed progress, but they have finally prevailed.
Below is a picture of it in progress, with rough logs holding up the wooden forms for the concrete. They will be removed soon and windows will be installed.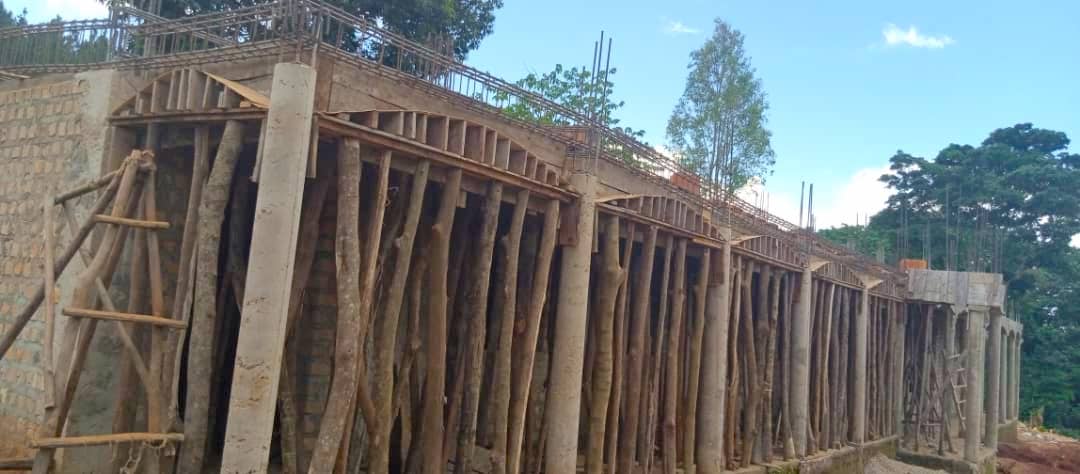 As of August, they need about $13,000 to finish the inside of the rooms so that the girls can move in.
Other Building Needs
While the lower level of the girls dormitory will be completed, another $30,000 is needed to finish the rest of the building. The ultimate plan is for the administrator offices and living quarters to be on the upper level, so the girls have responsible adults living in the same building. This is important for security for the girls in the long term. They also would like to have a room for international visitors to stay in.
Improved Quarters for Teachers – Teachers typically travel from a distance and stay overnight, teaching two or three days a week at Kingsway along with teaching at other schools. Some very basic quarters were built for them several years ago that need much improvement.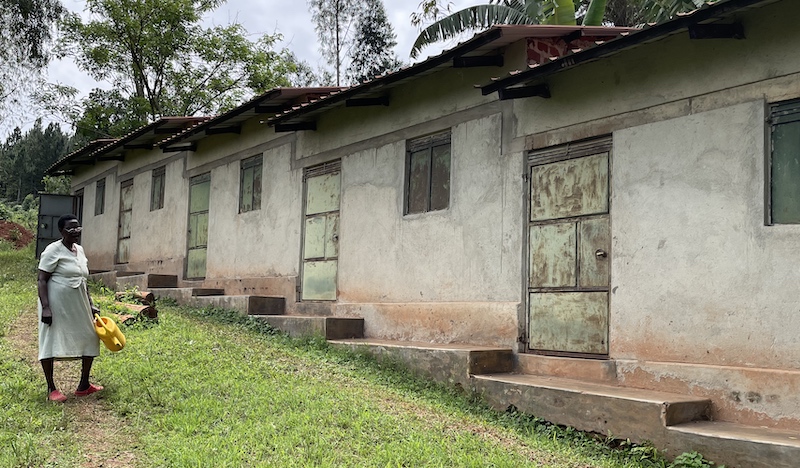 Recently Milly had a latrine built, paying for it out of her own pocketbook. Their quarters also still need to have the doors and floors fixed, a veranda built, and the building needs to be plastered too. The cost will be approximately $2,000.
~~~~~~
NEW – Solar Panels
As they were working on building the girls' dorm, it became clear that it would be a good idea to plan for solar panels and do this before construction was complete. Electricity is expensive and unreliable in Uganda, so solar panels would allow Kingsway to save money and have reliable power. Also, some buildings at Kingsway don't have electricity installed, like the teachers' quarters (above).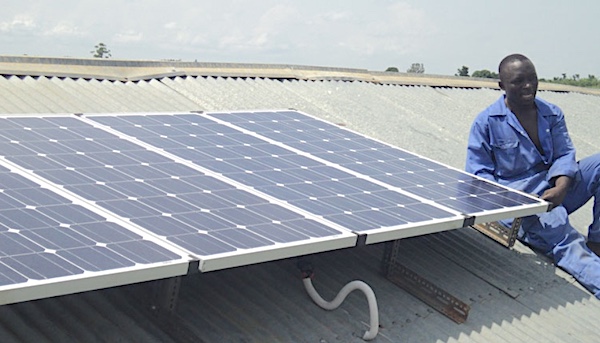 They would like to have solar panels for six buildings at Kingsway at a cost of $1800 per building. The total would be $10,800.
Kingsway is only about 25 miles (40 km) away from the equator. That means that at noon the sun is in the center of the sky, 90 degrees above the horizon. Because they get very direct sunlight they should be able to harvest much energy from the sunshine.
~~~~~~
For the farm: Goats, Chickens and a Coop
Kingsway must feed about 70 people every day, and food is very expensive in Uganda. (Read more about meals at Kingsway.) To save money, they grow a large garden and raise animals too.
Kingsway has a few goats and would love to expand their herd.  A goat costs about $50.
They also had a flock of chickens that all died from an illness recently. Milly thinks they caught it from their rooster, who has a roving eye for the neighbors' hens. Chickens cost $4, a rooster costs about $10.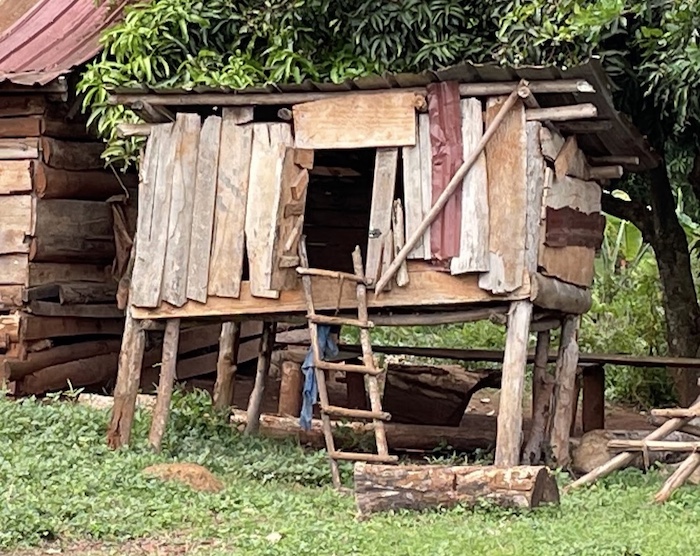 This is their chicken coop, which they really need to replace. They also need some fencing to keep the rooster from wandering! The cost is about $250. Contribute to their farm fund and their new animals will thank you!
~~~~~
Fixing the Well
Having clean water available within the walls of Kingsway is a critical need, but a constant headache. (Note the exasperation on Milly's face!)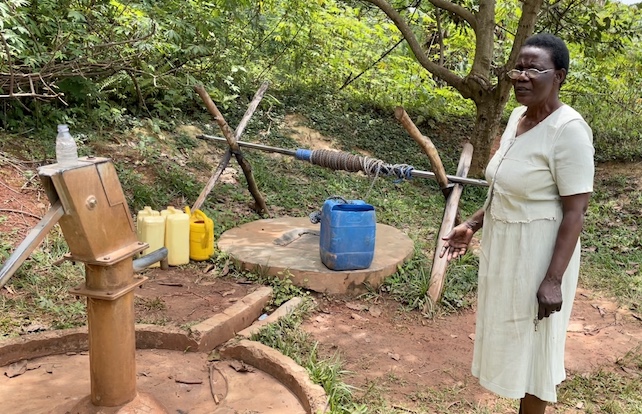 They have a borehole, but the pump keeps breaking. So they had a well dug, but the rope and pole they use to draw water keep breaking. To finish off the well with a structure that is reliable for the long term they need about $400.
Another looming problem is that during the dry season, the well barely yields enough to meet their needs. They will likely need to spend a larger amount soon to deal with this. Please keep them in your prayers.
2023 UPDATE: As a result of enrolling 63 students this year, the well is not sufficient for all the water needs of the school. Groups of students must make daily trips to a community well a few kilometers away to draw water and bring it back to Kingsway.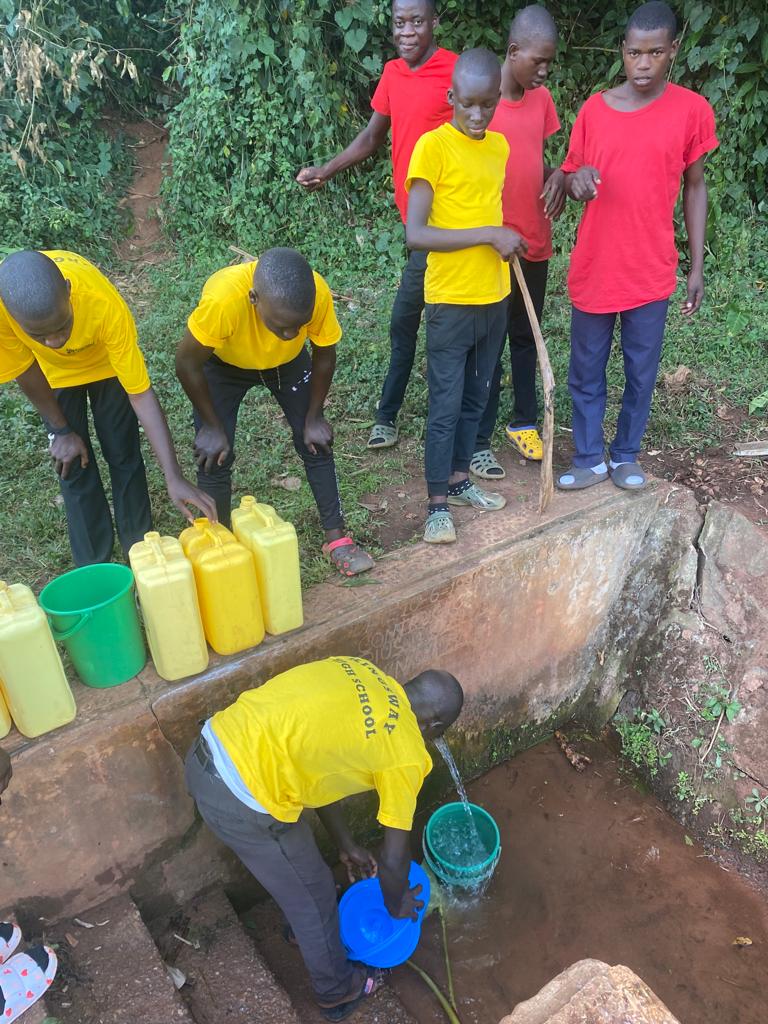 This means that Kingsway will be in need of a new well before long. The exact cost is currently unclear, but it could be several thousand dollars. Please pray for the Lord's provision in this area. 
~~~~~
Bible Study and Worship
Milly would love to have a money to buy more Bibles ($12 each), devotional books, and Bible study books suited for teens. She would enjoy having music  and instruments too. Can you contribute to their Bible Study and Worship fund? (Any amount would help.)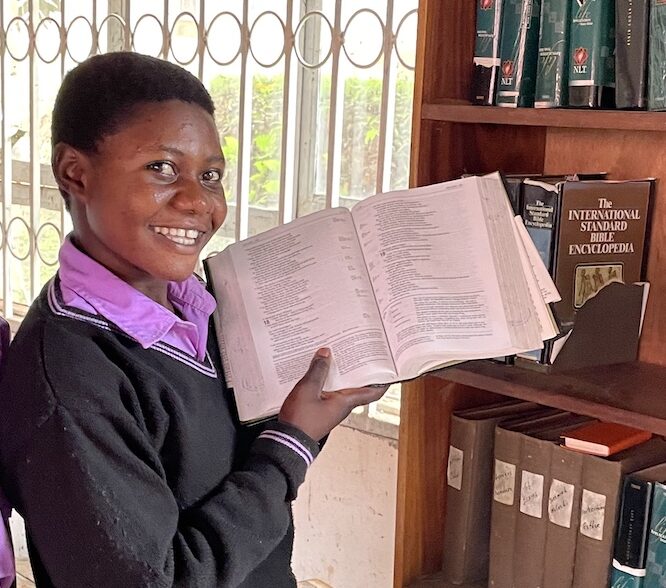 ~~~~~
To give a gift to Kingsway online, use the button below and choose the fund that you want to donate to. You can also just give to the general fund, to be spent wherever it's needed most.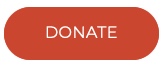 To donate by mail or another method (donor advised fund, private charity, etc.) go to this link. Of course Kingsway will do its best to put donations to their designated uses, but they may sometimes need them for another purpose.
You're also welcome to email us a note to share your greetings: